We take it for granted today, but checking the time in the dark on luxury watches wasn't always possible. The minute repeater complication (which chimes the time on demand) was invented to solve that very problem. But by the early-1900s, watch dials could glow thanks to the invention of luminous paint. While we later learned that early radium-based luminescence was highly toxic, watches that emitted their own light (and thus, could be read in the dark) were a magical proposition at the turn of the 20th Century.
One of the several ways to determine an approximate era of when a watch was made is to see if it has any luminous material on the dial and if so, identify the type. That's because like almost every other timepiece component, watch luminescence, better known as "lume" in watch circles, has also evolved over the last century or so. If you're interested in learning a bit of history about the evolution of watch lume, keep reading as we go through a brief overview.
The Early Years: Radioluminescence
A phosphor is a substance that absorbs energy from another source and then emits that energy into visible light. Radioluminescence describes the light that occurs when a phosphor gets its energy from radioactive particles.
In the early 1900s, a self-luminous paint composed of a mixture of zinc sulfide (a phosphor) and radium (which emits radioactive particles) was frequently used on watch dials. However, it wasn't long before the toxic effects of radium – brought to light thanks in large part to the tragic stories of the Radium Girls in the 1920s and 1930s – became apparent. Radium was still being used to create watch lume after the revelation but in significantly smaller quantities.
Radium on watch dials was finally banned in 1968, and tritium took over. If you come across a vintage watch with an original lumed-dial made anywhere between the 1910s and the 1960s, it was likely painted with radium-based luminescence. Some examples include the vintage Rolex GMT-Master 6542, vintage Explorer 6610, and vintage Panerai Radiomir (fun fact: the Radiomir name was patented by Panerai for a radium-based luminous paint in the 1930s).
While tritium also emits radioactive particles (which are required to activate a phosphor to glow), it is drastically less radioactive and therefore less dangerous than radium. As such, watchmakers began using tritium-based self-luminous paint on watch dials from the late-1960s onwards. Swiss watches marked with "T SWISS T" or "T
Modern Times: Photoluminescence
In 1993, the Japanese company Nemoto & Co. invented LumiNova paint, based on a photoluminescent material. Unlike radioluminescence, photoluminescence does not require radioactive particles to emit a glow – instead, it uses light as an energy source.
LumiNova is based on the chemical compound strontium aluminate, which is non-radioactive and non-toxic. All it required was exposure to light first, then it would continue to glow once the light source was removed. Therefore, LumiNova became the safest alternative for luminous paint destined for watch parts.
In 1998, Nemoto & Co. joined forces with Swiss RC-Tritec AG to create the company LumiNova AG Switzerland, which served to supply Super-LumiNova to the Swiss watch industry. Therefore, Super-LumiNova is the Swiss-made version of LumiNova. Most high-end Swiss watchmakers switched to LumiNova/Super-LumiNova in the 1990s, and several continue to use it today. For instance, current-production Omega, Breitling, and Tudor watches all use Super-LumiNova for their lume.
Rolex watches began rolling out with LumiNova around 1998 and then Super-LumiNova around 2000. LumiNova and Super-LumiNova on Rolex watches glow green in the dark. Generally speaking, Rolex watches with LumiNova are marked with "SWISS" while those with Super-LumiNova are marked with "SWISS MADE" – although this can sometimes differ depending on the specific model and whether or not it has had its dial previously replaced at some point during its history.
When the Deepsea watch made its debut in 2008, it was furnished with a new photoluminescent lume that Rolex called a Chromalight display. Instead of glowing green in the dark like Super-LumiNova, Chromalight glows blue and according to the brand, it's longer-lasting too. Rolex then began slowly rolling out Chromalight to other models as well, and some watches even had a mix of blue lumed parts and green lumed parts during this transition period. Today, however, all current-production Rolex watches that have lume have the blue Chromalight display.
Other Types of Watch Lume
Although radium, tritium, and LumiNova-based lumes are the most common types when discussing watches, there are others worth mentioning. For example, some modern watch brands are using tiny glass tubes filled with tritium gas for lume, which is self-luminous (doesn't require pre-exposure to light) but will eventually need replacing since tritium has a half-life of approximately 12.5 years. Some watch brands that use tritium gas tubes include Ball, Marathon, Tracer, and Luminox.
Some watches rely on electroluminescence to glow in the dark. As its name suggests, electroluminescence requires a current of electricity for the phosphor to glow. One of the most famous examples of this is Timex's Indiglo, which was patented in 1992. With a press of a pusher on the case, the whole dial lights up.
How Important is Watch Lume?
Many of us can agree that the ability to read a watch in the dark is a great feature to have. While some dress watches have no luminous parts at all, it is a basic requirement of tool watches. A dive watch, for example, can only be considered a dive watch if the person wearing it can read it when immersed in murky waters – otherwise, it's useless.
Remember, there was once a time that watches were essential instruments and not just symbols of status and style. In addition to dive watches, think of pilot watches, explorer watches, and above all, military watches. To be able to read a timepiece when the light was low was a vital attribute to getting the job done. In short, the evolution of luminous materials is one of the most important parts of watchmaking, even if we may take it for granted today.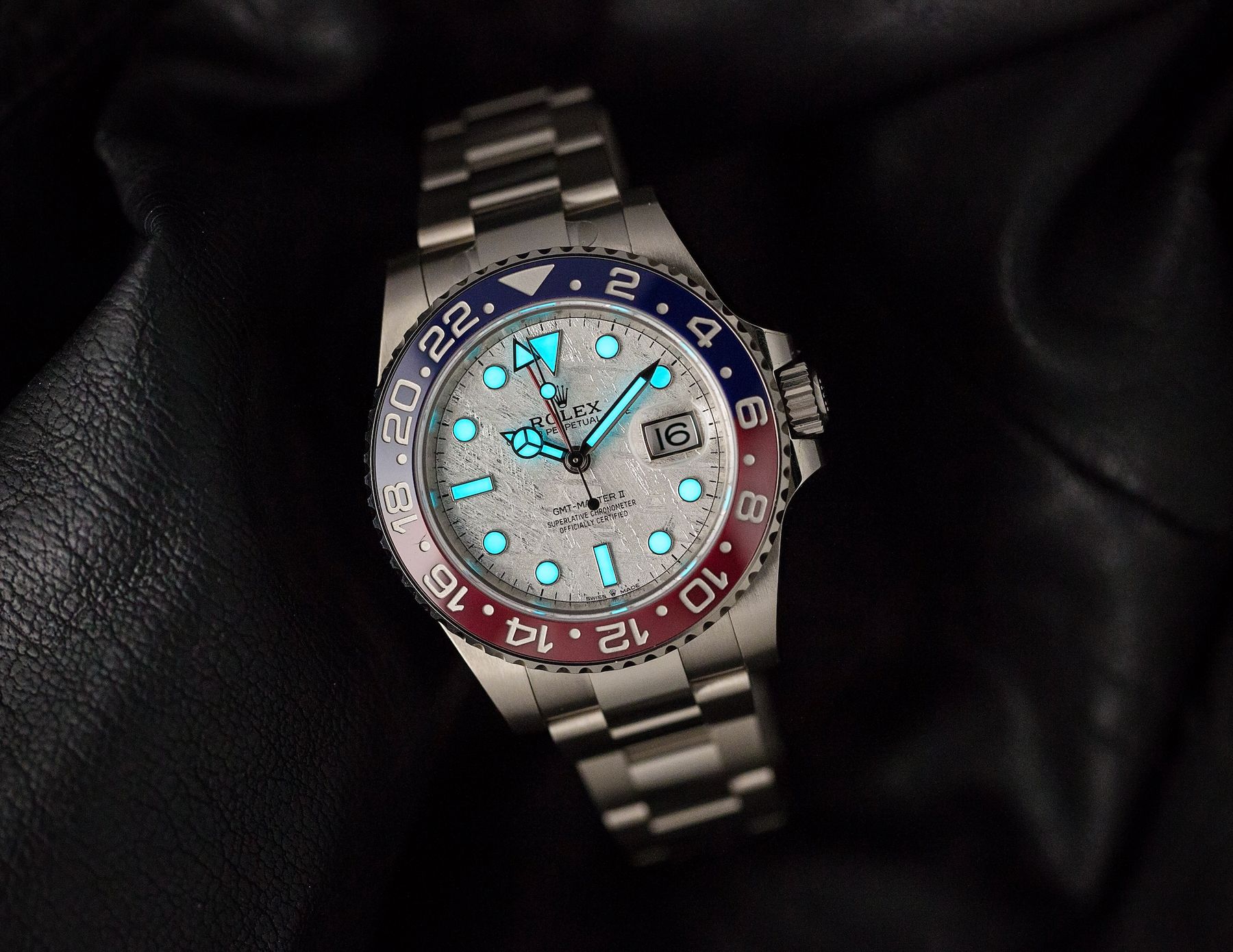 The post The Evolution of Watch Lume appeared first on Bob's Watches.